The fortieth day of the 2022 World Series of Poker action saw one gold bracelet awarded and the always electric scenes of the $10,000 Main Event money bubble bursting. Check out the video below to get a feel of the energy inside the WSOP's new home of Bally's and Paris Las Vegas.
Day 3 of the 2022 World Series of Poker $10,000 Main Event saw a field of 2,993 contenders cut down to 1,299 remaining in the second-largest field in WSOP history. Out of a field of 8,663 entrants, three hopefuls chopped the min-cash of $15,000 and ensured that a tiny fraction of the $80,782,475 prize money has already been awarded in the flagship event of the 2022 WSOP.
After the frantic bubble tension had subsided and all players bagged their chips for the night, Aaron Mermelstein emerged atop the leaderboard with a stack of 2,059,000. He appears to be the only one above two million, while Nick Howard (1,850,000) and Gabi Livshitz (1,835,000) follow not far behind.
2022 WSOP Main Event Day 3 Top 10 Chip Counts
Rank
Player
Country
Chip Count
1
Aaron Mermelstein
United States
2,059,000
2
Michael Rocco
United States
1,866,000
3
Gabi Livshitz
Israel
1,835,000
4
Brandon Lulo
United States
1,679,000
5
Leo Zamarripa
United States
1,643,000
6
Jake Abdalla
United States
1,615,000
7
Thi Nguyen
Canada
1,600,000
8
Jordyn Miller
United States
1,580,000
9
Mathieu His
France
1,565,000
10
Ian Armstrong
United Kingdom
1,563,000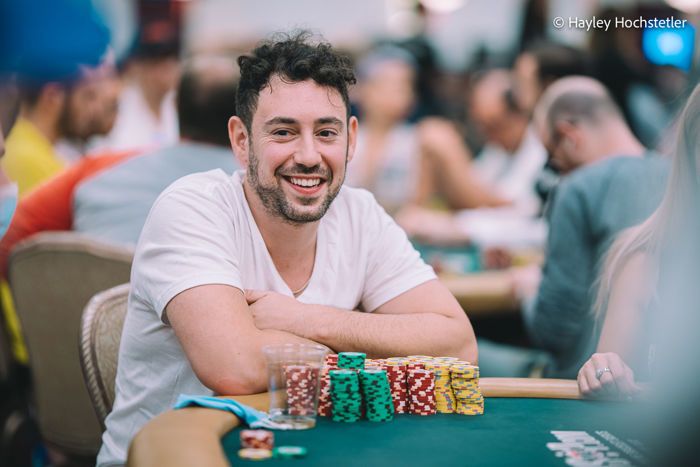 Aaron Mermelstein
"It's dope. [to be chipleader] I have been going out and partying and having fun. I am fortunate to be in this position and I am sticking with what I know best and not changing anything," Mermelstein mentioned at the night's end. He claimed a large portion of his large tower of chips in the final stages when his king-nine flopped trips in a three-bet pot, and he ousted an opponent with pocket kings.
Another WSOP bracelet winner can be found among the big stacks after the completion of Day 3, and that happens to be Martin Zamani (1,483,000, lead photo). Several other winners of live poker's most coveted hardware will bring healthy stacks into Day 4, such as Michael Moncek (1,244,000), and Ryan Torgersen (1,134,000). Mitchell Halverson (1,044,000) also has a bracelet to his name and will aim to finish even better than his 15th place finish in the 2021 WSOP Main Event.
Among the former champs still in contention are defending champion Koray Aldemir (537,000), Damian Salas (405,000), John Cynn (343,000), Chris Moneymaker (268,000), Ryan Riess (243,000) and Greg Merson (168,000).
Former Main Event Champions on Day 4
Rank
Player
Country
Year Won
Chip Count
Big Blinds
339
Koray Aldemir
Germany
2021
537,000
67
505
Damian Salas
Argentina
2020
405,000
51
594
John Cynn
United States
2018
343,000
43
699
Chris Moneymaker
United States
2003
268,000
34
806
Ryan Riess
United States
2013
218,000
27
923
Greg Merson
United States
2012
168,000
21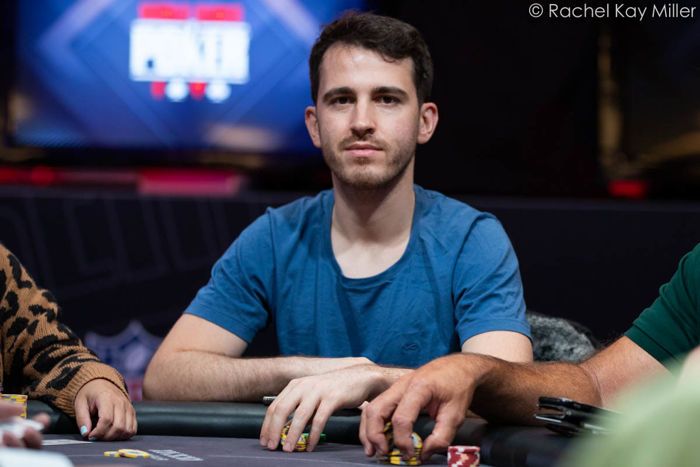 Defending champ Koray Aldemir's title defense is still alive.
On the hand-for-hand money bubble, there was a round with five simultaneous all-ins and calls on different tables. Three of those hoping to stay alive came up short of the goal as Robert Lipkin, Ognjen Sekularac and Tom McCormick all ran out of chips entirely. They chopped the $15,000 min-cash for $5,000 each and Lipkin was fortunate enough to win the blind flip for the WSOP $10,000 Main Event entry for the next year after that. Kevin Campbell was the bubble boy in the 2021 WSOP Main Event and was among the Day 3 survivors with an above-average stack.
With plenty of notables now gone, the field of contenders for Day 4 still contains plenty of big names. They will all be back in action at noon local time in pursuit of the $10 million top prize in the biggest live poker event of the year during the 2022 WSOP at Bally's and Paris Las Vegas.
The blinds will be 4,000-8,000 with a big blind ante of 8,000 and a total of five levels of two hours each are scheduled.
Players Advancing in the 2022 WSOP Main Event
Date
Day
Entries
Advancing
July 3rd
Day 1a
896
631
July 4th
Day 1b
879
634
July 5th
Day 1c
1,860
1,376
July 6th
Day 1d
4,370
3,294
July 7th
Day 2abc
2,641+148
1,262
July 8th
Day 2d
3,295+454
1,731
July 9th
Day 3
2,993
1,299
Don't miss a hand! Follow along with all Main Event updates
India's Neel Joshi Leads Event #71: $1,111 One More for One Drop Day 1c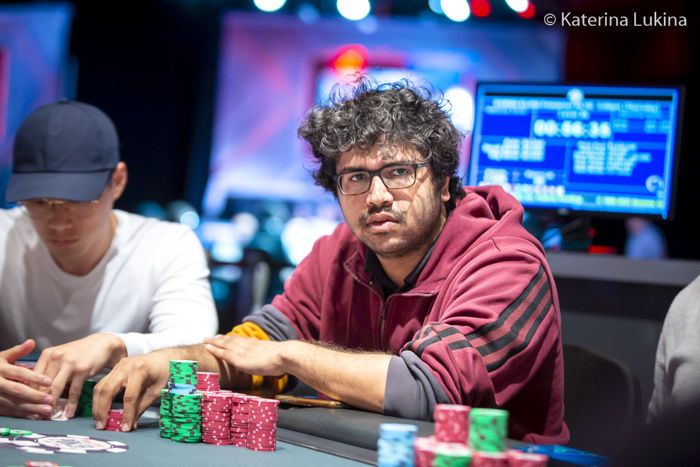 Neel Joshi
Day 1c of Event #71: $1,111 One More for One Drop at the 2022 World Series of Poker in its new home at Bally's and Paris Las Vegas attracted 2,713 entries, and those who survived will join the 783 survivors from flights 1a and 1b and any player who chooses to register on Day 2, as late registration is open until the end of level 12. The field will be expected to rise as those who busted out the Main Event may choose to join the action.
The overnight chip leader is India's Neel Joshi (543,000), who, along with Mauricio Parodi (521,000) was the only player to bag more than half a million in chips.
Event #71: $1,111 One More for One Drop Day 1c Top 10 Chip Counts
Place
Player
Country
Chip Count
1
Neel Joshi
India
543,000
2
Mauricio Parodi
Argentina
521,000
3
Shouyi Gao
United States
444,500
4
Tony Vo
United States
438,000
5
Seyed Jafari
United States
436,500
6
Shunsuke Tsujii
Japan
425,000
7
Elton Keung
United States
400,500
8
Vito DiStefano
United States
377,500
9
Ahmed Karrim
South Africa
376,000
10
Peter Bodnar
Canada
365,500
Those who also found a bag at the end of 1c included Brit Wil Kassouf (221,000) as well as WSOP bracelet winners Pat Lyons (69,500) , David "ODB" Baker (156,000) and Jason Wheeler (58,500). They will join Day 1a chip leader Renmei Lui (445,500) and Day 1b chip leader Andre Cohen (456,000) for Day 2, which will take place in Paris on Sunday 10th July at 12 p.m.
Martin Kabrhel was eliminated in one of the last hands of the night as his pocket aces were cracked by his opponent's pocket jacks which made a straight flush. Other notables who didn't make it to Day 2 include Vanessa Kade, who also busted towards the end of the day. Those failing to find a bag can re-enter for the first two levels of Day 2.
The structure remains the same as players will play ten 60-minute levels. There will be a 15-minute break every two levels and a 60-minute dinner break after level 16 at approximately 6:30.
Follow the one drop here
Daniel Strelitz Leads the Final Nine into Day 3 of Event #73: $1,500 Razz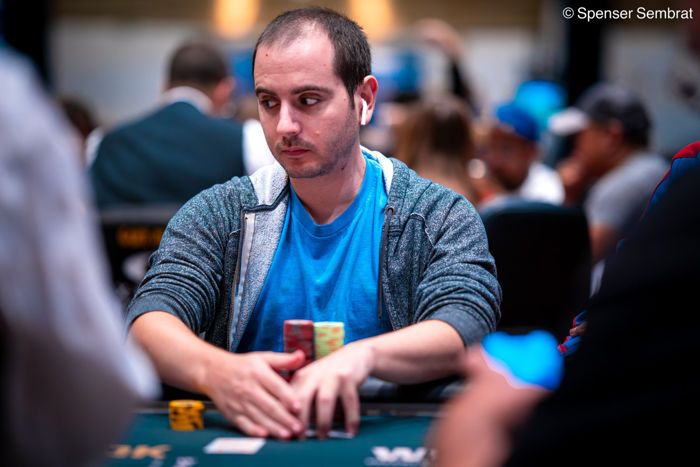 Daniel Strelitz
After 10 levels of play, a field of 123 in Event #73: $1,500 Razz Day 2 was brought down to nine, with WSOP bracelet winner Daniel Strelitz, who comes into tomorrow's final table with a stack of 2,215,000, leading the way.
The California resident won his first WSOP bracelet in 2019 in the $5,000 No-Limit Hold 'em event and followed it up with a second place in the same event in 2021. Strelitz has another chance to add himself to the list of two-time bracelet holders with the positioning he has put himself in with this final table.
Event #73: $1,500 Razz Unofficial Final Table Counts
Position
Player
Country
Chip Count
1
Daniel Strelitz
United States
2,215,000
2
Kijoon Park
United States
1,740,000
3
Frank Kassela
United States
1,630,000
4
Calvin Anderson
United States
1,360,000
5
Sergio Braga
Brazil
1,150,000
6
Andres Korn
Argentina
575,000
7
Mark Gerencher
United States
510,000
8
Timothy Dalessandro
United States
215,000
9
Phuong Tran
United States
180,000
Also making the final table are other bracelet winners, including three-time bracelet winner Frank Kassela (1,630,000), two-time winner Calvin Anderson (1,360,000), and Andres Korn (575,000) who is coming off of his second final table of the series after coming in seventh place in the Seniors event.
Each one of them possessed the chip lead at some point throughout the day and are each looking to etch their way into the WSOP history books with another title. The other five players; Kijoon Park (1,740,000), Sergio Braga (1,150,000), Mark Gerencher (510,000), Timothy Dalessandro (215,000), and Phuong Tran (180,000) are all looking to add a first bracelet to their resumes and will have a chance to do so tomorrow.
Each player is now guaranteed $8,291, with all eyes on the $115,723 for first-place and the WSOP gold bracelet.
All the razzmatazz is here
Alex Livingston Among Event #74: $1,500 Bounty Pot-Limit Omaha Chipleaders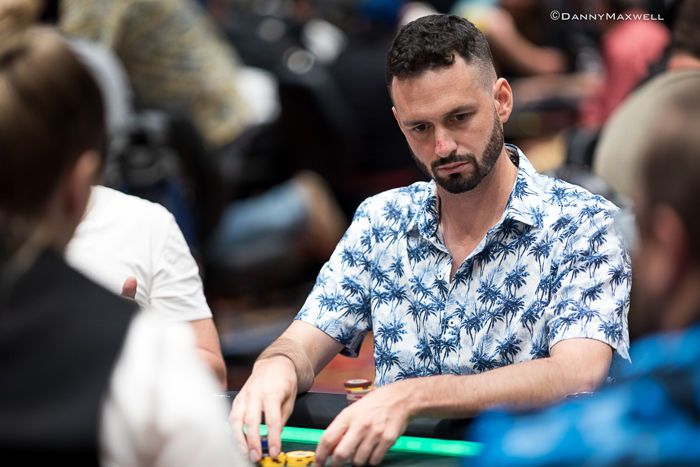 Alex Livingston
After 15 levels of play, Event #74: $1,500 Bounty Pot-Limit Omaha has wrapped up with 124 players bagging and tagging for Day 2. Those who made it through Day 1 will be playing for a $190,219 first-place prize.
The day saw 1,390 entrants take to the tables in the Paris Ballroom, with each knockout giving the winner a $500 bounty prize.
Event #74: $1,500 Bounty Pot-Limit Omaha Day 1 Top 10 Chip Counts
Rank
Player
Country
Chip Count
1
Tamer Kamel
United Kingdom
1,064,000
2
Amirali Amini
Canada
930,000
3
Johann Ibanez
Colombia
910,000
4
Pei Li
Canada
899,000
5
Byron Vereschagin
United States
780,000
6
Travis Pearson
United States
771,000
7
Enrico Rudelitz
Austria
758,000
8
John Riordan
United States
641,000
9
Alex Livingston
Canada
615,000
10
Emrah Cakmak
France
611,000
Day 1 saw Player of the Year leader Dan Zack and second place Daniel Weinman, with Zack making the money to extend his lead at the top of the POY race. Phil Hellmuth and Daniel Negreanu were two other notables who joined Day 1, they were even found sat next to each other at one point, shortly before they both busted.
The bubble burst with Craig Hartman, as well as three other players, being eliminated, and they all chopped the min-cash of $1,504 for $376 each, plus any bounties they had won throughout the day.
Notable players with stacks going into Day 2 include recent bracelet winner Patrick Leonard (368,000), Michael Watson (104,000), Joao Vieira (269,000), Connor Drinan (208,000), Anthony Zinno (260,000).
Players will return to play on Day 2 at 2:00 p.m. local time, with ten 60-minute levels. There will be a 15-minute break after every two levels with a 60-minute dinner break after level 21, six levels into the day.
Tune in straight into the live updates here


Yori Epskamp
Senior Content Manager
A former professional poker player from the Netherlands with a background in sports marketing and journalism. Yori has been a part of PokerNews since 2016 and manages the content team.
1 2022 WSOP Day 1: Hellmuth Noticeable Absentee as WSOP Kicks Off
2 2022 WSOP Day 2: First Bracelet Awarded; Ivey Records a Cash
3 2022 WSOP Day 3: Peters Wins Gold; Seiver Hunting For Bracelet #4
4 2022 WSOP Day 4: Scott Seiver & Brad Ruben Win Bracelet #4
5 2022 WSOP Day 5: Smith Bags 25k Heads-Up Title; Housewarming Surpasses Guarantee
6 2022 WSOP Day 6: Szecsi Reels in His Third Bracelet; O8 Event Needs Extra Time
7 2022 WSOP Day 7: Dan Smith Flying High in the $50K High Roller
8 2022 WSOP Day 8: Schutten Leads $50K High Roller Final Six
9 2022 WSOP Day 9: Diebold, Schindler, and Moncek Strike Gold
10 2022 WSOP Day 10: Bronshtein and Foxen On Course For Bracelets
11 2022 WSOP Day 11: Three New Bracelet Winners Crowned, "ElkY" and Ivey Lead $10K Stud
12 2022 WSOP Day 12: Two More Bracelets Won; Friedman on Fire in the $10K Stud
13 2022 WSOP Day 13: Friedman Makes It Five; Two Other Champs Crowned
14 2022 WSOP Day 14: Three New Champions; Big Names Turn Out In Force
15 2022 WSOP Day 15: Karakitkov On Course for $50K PLO High Roller Title
16 2022 WSOP Day 16: The Busiest Day Yet For Bracelets as Four Awarded
17 2022 WSOP Day 17: Hastings Secures His Sixth WSOP Bracelet
18 2022 WSOP Day 18: MILLIONAIRE MAKER Draws Thousands of Runners
19 2022 WSOP Day 19: Hellmuth Flying High in $10K Deuce-to-Seven
20 2022 WSOP Day 20: Bromfman, Stovall, and 'PmpknHead' Secure Bracelets
21 2022 WSOP Day 21: Ivey Denied His 11th WSOP Bracelet
22 2022 WSOP Day 22: $10K Seven Card Stud Hi-Lo Championship Finally Concludes!
23 2022 WSOP Day 23: Six Events in Play, One Champion Crowned
24 2022 WSOP Day 24: Ivey Bags a Big Stack in the $250K Super High Roller
25 2022 WSOP Day 25: Foxen Leads $250k Super High Roller, First Bracelet for Cyprus
26 2022 WSOP Day 26: HOF Nominee Liebert's Still Got It, How Foxen Won First Bracelet
27 2022 WSOP Day 27: Four Bracelets Awarded as $50K PPC Kicks Off
28 2022 WSOP Day 28: Kenney Leads the $50,000 PPC Event
29 2022 WSOP Day 29: Dzivielevski Leads the $50K PPC; Three Bracelets Awarded
30 2022 WSOP Day 30: The Best Laid Plans of Mice and Men
31 2022 WSOP Day 31: Cates Crowned PPC Champ on a Crazy Day of Action
32 2022 WSOP Day 32: Eli Elezra Wins Again, Hellmuth Chasing a Bracelet
33 2022 WSOP Day 33: Phil Hellmuth Denied 17th Bracelet; Jackson, Barbero & Teusl Victorious
34 2022 WSOP Day 34: The Main Event Shuffles Up and Deals!
35 2022 WSOP Day 35: Another Huge Day of Main Event Action
36 2022 WSOP Day 36: Clarke Leads Main Event; Glantz Banks a Milly
37 2022 WSOP Day 37: Vaughn Kicks Off Huge Main Event Flight
38 2022 WSOP Day 38: Gavin Munroe Leads After Day 2abc of the Main Event
39 2022 WSOP Day 39: Bryn Kenney Among Top Stacks After Day 2d of Main Event
40 2022 WSOP Day 40: Main Event Enters the Money, Six Former Champs Still In
41 2022 WSOP Day 41: Taylor von Kriegenbergh Leads the Main Event Into Day 5